Pros and Cons of Investing in Land
by
June 25, 2019
0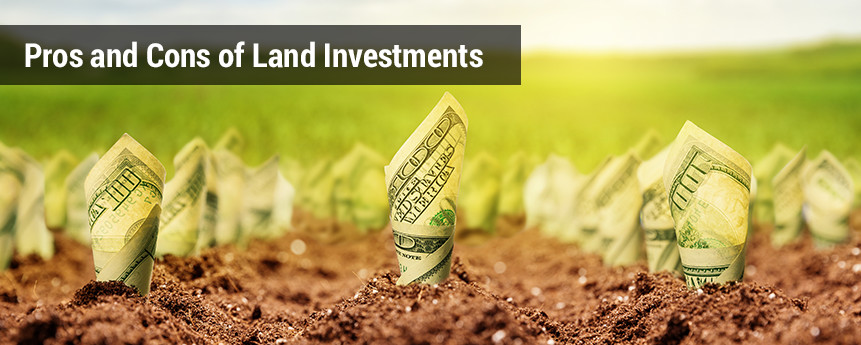 Tell me a name who does not wants to earn profits other than doing a job??? I think no one. Earning a handsome amount of money is not a requirement but a necessity of life. This is because of this fact that people tend to make an investment to reap profits on a longer and investing in real estate are one of those options which undoubtedly second to none. Also, there are many who find investing in the land a lucrative way to earn some sort of income. Every other day, people make money by selling and purchasing raw land.
But, like any other business, even there are some pros and cons of investing in land deals. So, Gateway Propmart has enlisted some of those points that can help you in making a right decision.
Pros
No repairs or renovation is required in land dealings. The land can be purchased and sold in its exact condition.
If experts are to be believed, there is a little competition in the market for raw land, hence chances of getting a good deal are quite high after negotiation.
By investing in raw land, you are free from tensions like tenants, late rent payments and legal fees for eviction.
Most of the time, raw landowners are referred as absentee owners. They are motivated sellers as they are unaware of the fact that how they can earn income from it.
Most land purchases are done in cash, hence you don't have to go for the mortgage.
You don't need a lot of investment to start.
You actually go for inspections and site visit in case of selling and purchasing of raw land. Nowadays, everything can be done over phone calls and internet.
Cons
Find out the root-cause that why this particular land in vacant. Numerous investors have lost a lot of money in the past because later on, they came to find that their land cannot be developed.
One of the biggest drawbacks of buying a raw land is, if you want to build a home or a commercial site, you will have to start everything from scratch. There will be no water, electricity, sewage or even telephone facility.
Check if the property zoning allows you to use it the way you want or not. If it is not then it is not a good idea to go for such land deals.
Take help from Google Earth to know the topography of the land. Avoid purchasing lands that are too hilly or rocky for construction.
Taxes that are higher than 4% of the total market value are a red flag.
Avoid purchasing oddly-shaped or landlocked properties. They are hard to resell.
Buying and selling land is one of the best ways to earn substantial income other than the salary you are getting your job. But, the chances of getting duped are everywhere. The key to success in this business is to research more about the land and calculate the probability of earning the profit at the time of its reselling.