When to Rent and When to Buy a Property???
by
June 25, 2019
0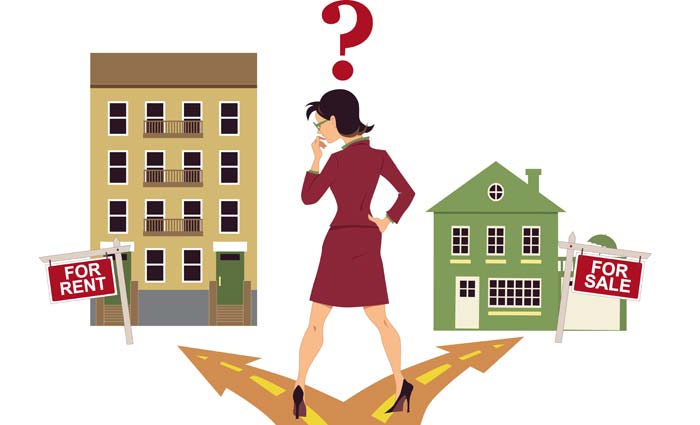 There is a popular proverb in British which says, "Fools build houses, and wise men live in them". Most of the time it is used by many when they talk in favour of purchasing a home instead of staying in a rented space. Buying or renting, both are the two sides of a coin and it is strictly your personal choice that which side you want to stand. But, before you land on any decision, you should know the pros and cons of buying as well as renting a property.
When You Should Go For a Rented Home?
Most of the banks do not grant loan beyond 80% of the total cost of the property and rest 20% of the amount has to be paid by the buyer. Now the actual problem arises that where this 20% will come from? Even when there is a recession in the market, the prices of residential units always remain sky high. So, you are left with no option but restricted to stay in a rented house.
Staying in a renting home offers you a roof over your head and flexibility to leave whenever you want. The nature of your job also plays a major role if you are going to live in a rented home or not. If you get transfers in your job frequently, then obviously renting a home makes a better sense.
Even if you have ample of money in your hand but unsure of the locality, then renting a house for a short time is a good idea. It gives you an opportunity to understand more about the locality, people who stay there and nearby places before you make a commitment.
When You Should Buy a House?
Purchasing a home for yourself always sounds good, when it comes to secure your future. For that, you only need to look at your budget. You should be confident enough to pay for the margin money and support monthly EMIs for your home loan.
But, if you are purchasing a property for the sake of monetary benefits by renting it, then you are making mistake in your calculations. The rentals of a property usually vary from 2% to 4% of the total capital value. On the other hand, a home loan EMI counts around 10%. That means only you will be responsible for paying this remaining amount.
If you are purchasing your house at a time when there is a recession in the market, then you can surely expect a high return on a longer run. Apart from this, having your own home will always give you a sense of relief and security, which you can never get in a rented home.
Conclusion
Buying a home is a bold decision and it undoubtedly takes a toll on your savings and lifestyle, but at the same time, it also offers mental satisfaction that you won't have to shift every other year with your family. So, plan things from now and start saving for the margin money and EMIs of your home loan.